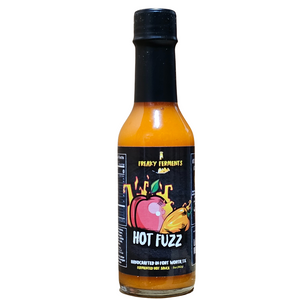 Hot Fuzz is a summer limited release! We waited for peach season here in Texas and paired them up with habaneros and Peruvian aji chilis. This sauce can be used in similar applications as our Mango Pineapple Habanero. 
Made with freaky, fresh, simple, fermented ingredients: Peaches, Yellow Bell Pepper, Habanero Pepper, Aji Chili, White Onion, Garlic, Salt, Kombucha 
Heat Level: HOT 🔥🔥🔥
Use with: BBQ, pork dishes, pizza, wings, BLT sandwiches, margaritas, and pretty much anything! 
This product is naturally: Gluten-Free, Vegan, and Keto Friendly
FREE shipping on orders of $30 or more!
Free Freaky Ferments sticker with every order! Please don't hesitate to contact us with questions, comments, or suggestions.