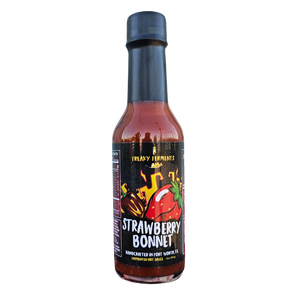 Strawberry Bonnet is a strawberry scotch bonnet pepper sauce with basil and lemon! This scorching picnic sauce is packed with strawberries and lots of heat from the scotch bonnets and Aleppo peppers.  
Made with freaky, fresh, simple, fermented ingredients: Red Bell Pepper, Strawberry, Scotch Bonnet Pepper, Aleppo Chile Pepper, Red Onion, Garlic, Basil, Lemon, Salt, Kombucha 
Heat Level: HOT 🔥🔥🔥🔥
Use with: BBQ, pork dishes, pizza, wings, BLT sandwiches, margaritas, bagel and cream cheese, peanut butter & strawberry sandwiches, and pretty much anything! 
This product is naturally: Gluten-Free, Vegan, and Keto Friendly
FREE shipping on orders of $30 or more!
Free Freaky Ferments sticker with every order! Please don't hesitate to contact us with questions, comments, or suggestions.